URBAN KNIGHTS feat. BLACKOUT JA - Step On Dem (top billin)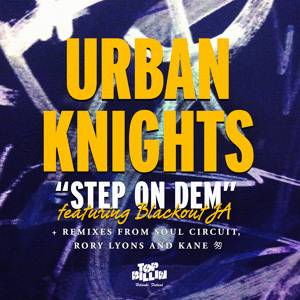 BUY RELEASE:
http://www.beatport.com/release/step-on-dem/916097
http://www.junodownload.com/products/step-on-dem/1971045-02/
CHECK OUT RELEASE: http://soundcloud.com/urbanknights/sets/step-on-dem-urban-knights-feat
VIDEO: http://www.youtube.com/watch?v=i-Hr7_o33zg
Top AV act the Urban Knights have been making waves with their party-hearty, genre-crossing audio-visual mash-up sets in recent times. Bunkering down in the studio, they've also been crafting some original productions and the first main release of these sessions is the wicked 'Step On Dem' featuring ragga MC Blackout JA.
Coming across like a Major Lazer carnival cut, the bashment vibes of 'Step On Dem' are sure to be nicing up dances across the styles for much of the upcoming summer. Snapped up by top US independent urban label Top Billin', its release signals the start of a frenzied period for the Urban Knights.
This baby comes with some strong remixes as well. Kane 㕝匆 & Sean Lee roll out a stripped-down version for the headz; Rory Lyons accentuates the bounce; and Soul Circuit turn it into a Chase & Status-style big room monster.