TOMCRAFT feat. Sam Obernik - The Noyz (kosmo records)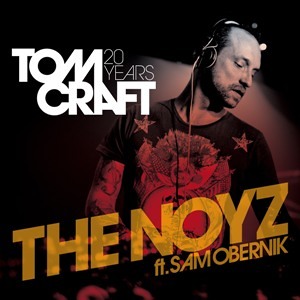 After scoring one of the biggest club crossover hits of all time with the classic 'LONELINESS' in 2002 (UK NUMBER 1, GERMANY TOP 10 AND HUGE SALES THE WORLD OVER), and creating one of the most popular and acclaimed electronic labels in the world: GREAT STUFF RECORDINGS (signing huge talents like Lutzenkirchen, Coburn (Tim Healey), Oliver Koletzki, The Egg and Ramon Tapia), Tomcraft returns with the 1st single ahead of his new album: "TOMCRAFT – 20 YEARS" on KOSMO RECORDS.
One of our absolutely favourite vocalists, SAM OBERNIK from London who has worked with, TIM DELUXE, PETE TONG, PAUL HARRIS, TOMCRAFT and ALEX GAUDINO
refines the brand new Tomcraft Single "THE NOYZ" with her unique voice. Additionally you will enjoy a funky guitar lick which is working in tight unison with Tomcraft's typical heavy basslines.
Two further remixes make the release even more exciting.
LISSAT & VOLTAXX are in perfect shape and deliver 100 % up to date tech house.
The Munich-based duo AINT & FISH carries the song with their progressive house mix to a completely different level again.
Tomcraft has worked with the likes of BLOODHOUND GANG SINGER JIMMY POP, GERMAN SOUL SENSATION XAVIER NAIDOO, the USA's venerable TOMMIE SUNSHINE, local rapper SIDO and most recently SAM OBERNIK and SISTER BLISS form FAITHLESS
http://tomcraftsblog.greatstuffrecords.de/
TOMCRAFT FREE TRACK "we celebrate" : http://soundcloud.com/kosmomusic/tomcraft-we-celebrate
BUY RELEASE HERE : http://itunes.apple.com/de/album/noyz-feat.-sam-obernik-remixes/id542167426