TIM HEALEY vs KONGMAN Fat Lip ft. A GIRL & A GUN (surfer rosa records)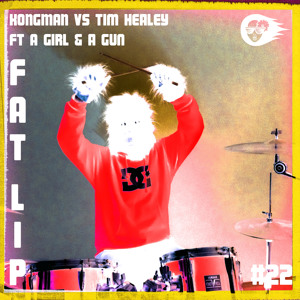 Label owner, globe-trotting DJ and producer, Tim Healey needs little introduction as a champion of the the cutting edge of dance, from house to dubstep through various incarnations, including Coburn, Electric Tease and his collaborations with Calvertron, Deekline, Wizard and Tomcraft.
'Fat Lip' is his latest slab of blistering electro-dance co-produced by Kongman, the Brighton-based ape soundsystem and featuring the inimitable vocals of A Girl & A Gun.
Its a case of massive production mashed up with kooky super-hooky lyrics, arpeggios a go-go, a blast of dubstep and a bassline to die for - game on. Fans of Alvin Risk, Zedd, Dirtyloud, Knife Party etc are gonna love this longtime.
On remix duty, the Chaotic Good turns in his best remix to date, funking up the original for the broken-beat/bassline posse.
///
FREE TRACK Nirvana 'I'm So Happy' Tim Healey vs Felguk refix:
http://www.surferrosarecords.com/