THE DIRTY RICH - F**k the Jubilee (westway records)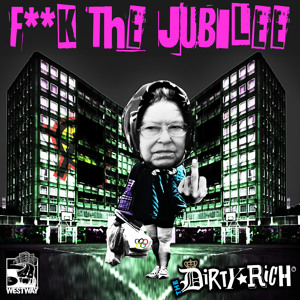 Buy release: http://www.junodownload.com/products/f-k-the-jubilee/1953147-02/
The Dirty Rich 'F**K The Jubilee' VIDEO: http://www.youtube.com/watch?v=74OC9dCDkNM
The Dirty Rich 'F**K The Jubilee' VIP RMX VIDEO: http://www.youtube.com/watch?v=smf8Zdtwes4
Punk rave band the Dirty Rich from Essex are releasing their new single, 'F**k The Jubilee', on Westway Records - just in time for the Queen's Diamond Jubilee.
As well as taking a pop at the United Kingdom's hereditary monarchy, the punky junglist rave anthem also targets the corporate exclusivity of the London 2012 Olympics with its shouty, vitriol-fuelled polemic.
The track takes its queue from 'God Save The Queen' by the Sex Pistols, but in reality is a completely different beast. It probably won't win an Ivor Novello award, but its filth and fury - kinda Dead Kennedys meet The Prodigy - is quite likely to go viral on the Internet...
Barry Ashworth (Dub Pistols) and Carl Loben (DJ Magazine) came across the track and decided to put it out on their label, Westway, even though they themselves are ardent monarchists. The guys reasoned that there was going to be a lot of media coverage of the Queen's Jubilee in the coming weeks, and so for the sake of balance thought that there should be something out there that didn't wholeheartedly support the flag-waving Royal pageant. They love their Queen, though.
'F**k The Jubilee' also mentions the IOC - the International Olympic Committee - who have allowed the global athletics event to be dominated by big business in recent times. In attendance at the Games will be a large proportion of supposed VIPs, while ordinary Londoners are shut out - and facing transport and security lockdown.
The Dirty Rich guys have produced a video to accompany the 'F**k The Jubilee' track, and will be out and about causing mischief in the lead-up to the event.
///
The Dirty Rich - F*** The Jubilee - Westway VIP Remix, for free:
http://soundcloud.com/the-dirty-rich/fuck-the-jubilee-vip