RENNIE PILGREM - Defy (tcr recordings)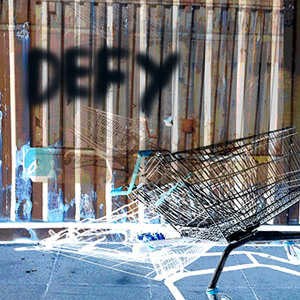 Over the year's Rennie Pilgrem has been at the heart of many aspects of the bass n beats scene and currently he is enjoying being involved in what is becoming one of the freshest-growing genres in dance....Future Jungle (aka Nu Jungle, Jungle breaks, 140). This musical hybrid bridges the gap between Dub Step, Drum n Bass and Breakbeat and is attracting the attentions producers from all of those those camps to create something unique but with the spirit of Rave and Jungle in its DNA.
Soaring vocals, soulful keyboards, luscious strings and fat bass with some awesome jazz drumming make for what could well be a summer anthem. As well as the original, there's a driving Future Jungle mix, and tripped-out 70 BPM iLLout mix and a firing interpretation from Afghan Headspin. in a ddition to Defy, new track Respect Is Due which manages to blend pianos, and ethereal vocals with tough Dub sections complete with ragga vocals.
BUY Rennie Pilgrem 'DEFY EP' (As featured on the LP) : http://www.junodownload.com/products/defy/1979413-02/
CHECK OUT 'Defy EP': http://soundcloud.com/rennie_pilgrem/tracks