NU JAM vs DEEKLINE & ED SOLO - Countdown (rat records)http://bassboutique.co.uk/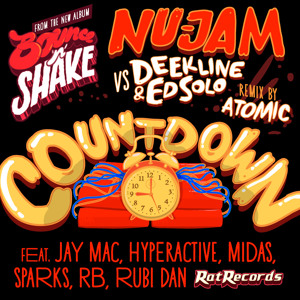 DEEKLINE and ED SOLO, co-founders of the breakbeat and garage sound thought it was time to give the new generation of kids a taste of the old school.
Ed's blistering production techniques, captivate the sound first heard in his early 2000 releases on ZINC's label BINGO BEATS.
Deekline goes back to breakbeat garage roots on this one, redeveloping the iconic flavour of that era in to something fresh - with South London collective NU-JAM on vocals, this hard hitting, floor filler will guarantee to get you bouncing and shaking all the way to the club.
They've even thrown in a 2step mix for good measure!
FREE GIFT VOUCHER! Promo Code ''Countdown'' get your £10 free gift voucher @ http://bassboutique.co.uk/
BUY HERE : http://www.beatport.com/release/countdown/946973