MARTYPARTY & FREQ NASTY - Beethoven's Filth (FreQ Nasty Recordings)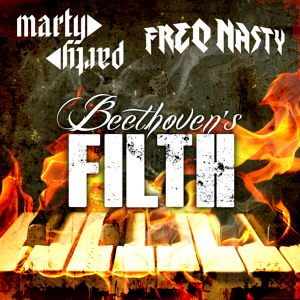 BEETHOVEN'S FILTH was started by MARTYPARTY and FREQ NASTY in the back of the MONSTERS OF BASS tour bus as it crossed the US. But it wasn't until they got back to Marty's Brooklyn studio that the filth started to fly. It's a tasty combo of sweet strings and melody with salty electronics and a drop that will have Beethoven turning or maybe raving in his grave.
HOT DELUX smoothly fuses an opulent classical motif with the trap sound that is ripping thru the underground right now. Luxurious violins, cello, oboe, and tuba float over a weighty bottom end while skittish 808 snares delicately tickle the high end, giving the track a seductive mechanical drum funk.
MARTYPARTY has been blowing up US festivals and dance floors with his original style of genre-crossing-crunky-big-bass bangers for 5 years now. MartyParty has released over 50 tracks in just two as featured on the ITUNES, ADDICTECH AND BEATPORT charts. He has also shared the stage with THE GLITCH MOB, SKRILLEX, BASSNECTAR, and STEVE AOKI; plus collaborations with his PANTyRAiD partner OOAH of the GLITCH MOB.
FREQ NASTY (BOTCHIT & SCARPER, SKINT).
Collaborated, remixed FATBOY SLIM, KELIS, KRS ONE, ROOTS MANUVA, RODNEY P, BASSNECTAR, SANTIGOLD, SWITCH, AND REGGAE LEGEND JUNIOR DELGADO.
One of BURNING MAN most loved DJs.
MartyParty -WTF Festival, Summer Set Festival, shows on the West Coast US September.
FreQ Nasty - Secret Garden Party (UK), Summer Festival (ES), Subculture Festival, Philadelphia, US, East and West Coast US dates, Australian tour planned November- Eclipse 2012 Festival.
BUY : http://www.beatport.com/release/beethovens-filth-single/966351