KING YOOF vs GOLD - Death B4 Dishonor ~ Slayer Soundclash (Sub Slayers)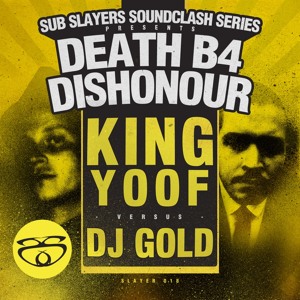 Welcome to the first in a series of Slayer Soundclash EPs where we pit together 2 artists in a full on production assault and what a result the first one has been with the mighty King Yoof taking on the dub master GOLD.
The EP is a futuristic take on the art of Soundclash embracing the musical culture of Reggae music, sampling some of the most deadliest clash riddims ever to grace the arena and introducing a new generation by updating it in a 140 Jungle fashion.
A fitting tribute to some of the forefathers of sound system culture such as Killamanjaro, King Addies, Saxon Sound and David Rodigan to name just a few.
Buy : http://www.beatport.com/label/sub-slayers/13608
FREE TRACK Major Lazor 'Original Don' King Yoof Vs GOLD Relick
https://www.facebook.com/subslayers/app_108468622525037
Videos : http://www.youtube.com/subslayers