INVADER! - omg wtf hax EP (royal one records)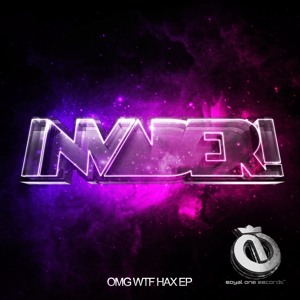 With an unparalleled sound in the realm of digital music Invader!'s style of Electro House and Blatta & Inesha style of Electro Techno can boast pages of accomplishments in just about every aspect of the music world.
Surging to the very top with their productions Blatta And Inesha have won over and set the mood for an entire generation of clubbers, which they have definitely done for this EP coming out on US label- Royal One Records.
Invader! :
Invader! is a fairly new electronic music project by Alejo Gonzáles based out of South Florida. Ranging from Electro House to Dubstep, Drumstep and Dnb, Invader! has already been getting some decent recognition with original releases on Royal One Records and Heavy Artillery Recordings and official remixes for bands like The Anix, Ketura and Aerodrone. Keep an eye out for Invader! as there is still much more to come.
Blatta & Inesha:
Currently remixed the legendary Plump Dj's, a remix for Meat Katie on Lot 49, freshly finished remixing Pink Is Punk on Universal Records, two recent releases on Dim Mak including a collab with their French brothers Mustard Pimp, remixed GTRONIC on Lektroluv with numerous weeks in Beatport charts, remixed Benny Benassi (Maybb) on Kitsune and being included on a Sony BMG compilation alongside Crookers, it's no surprise that Italian duo Blatta & Inesha were slated by XLR8R magazine as " Among 6 of Italy's top party rockers." including Crookers, Bloody Beetroots, Congorock.
With an upcoming track on Dim Mak in February 2012 and a new collaboration track with the LA duo Casino Gold their bass driven Techno Electro has been blasted around the world. Whether its them headlining massive tastemaker festivals like Marsatac in France playing for 10,000 people alongside Mr. Oizo and Erol Alkan and World DJ Festival in Seoul - South Korea or at super clubs like Womb in Tokyo or top tier DJs dropping their tracks, topping industry charts, or tuning in to hear repetitive plays on BBC radio 1 shows Kissy Sell Out and Annie Nightingale or on heavy rotation on DeeJay TV.
Buy release Beatport : http://www.beatport.com/release/omg-wtf-hax/926739
///
Invader! FREE TRACKS:
Invader! 'Omg' (radio edit) - http://soundcloud.com/invadermusic/omg-radio-edit
Invader! 'Alive' ep - http://soundcloud.com/invadermusic/sets/alive-ep/
Invader! 'Surprise!' - http://soundcloud.com/invadermusic/surprise
Invader! FREE REMIXES:
soul circuits - undo me (invader! instrumental remix) - http://soundcloud.com/invadermusic/soul-circuits-undo-me-invader-instrumental
joe jonas - love slayer (invader! remix) - http://soundcloud.com/invadermusic/joe-jonas-love-slayer-invader
joe jonas - love slayer (invader! vip remix) - http://soundcloud.com/invadermusic/joe-jonas-love-slayer-invader-vip
http://www.facebook.com/invadermusic
http://soundcloud.com/invadermusic