HUMAN BOOT PROJECT + PISTOL JAZZ - anaconda remix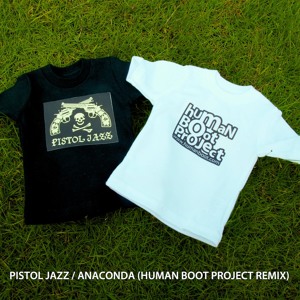 http://www.youtube.com/watch?v=pDmZrdgCpR0
PISTOL JAZZ and HUMAN BOOT PROJECT collaborated on a new project.
Anaconda (Human Boot Project Remix) - Now available for Free Download !!
Please check it !!
HUMAN BOOT PROJECT
Human Boot Project are a Japanese underground music unit. This is a genre breaker fusing Jazz with Rock and Drum and Bass and one to get the synapses twinging.
Facebook : http://www.facebook.com/humanboot
Website : http://www.humanboot.com/
PISTOL JAZZ
We have 4 well-sculpted pieces of modern improv jazz, hypno-rock, where each composition is driven by either fuzzy guitars, strong basslines and hypnotic organic rhythms.
Facebook : http://www.facebook.com/pages/PISTOL-JAZZ/124631094259347
Mobile site : http://72.xmbs.jp/pistoljazz/