FREQ NASTY - interview du 11/04/12
1 - Can you tell us a Tell us little about your background? Where did you guys grow up, and where are you based now?
Born in Fiji, raised in New Zealand, I moved to the London, UK where I put out my first tunes in the late 90's and now I live in the US.
2 - What originally enticed you to start making music?
I loved the power music I loved had on me to change my moods, access my feeling I didn't know I had, and make me want to jump around the room as a kid.... and it just hasn't worn off, including jumping around the room like a kid.
3 - How would you describe the sound you produce?
Bass music without limits.
4 - Did you have any mentors when you were starting out? Who helped you get heard and established?
It wasn't until the early to mid 2000's that places like Point Blank studios and SAE Institue popped up and you could pay to get a solid foundation in audio engineering and production for Electronic music , so until then it was all pretty much DIY if you were in the Electronic side of things. I was had a mate who had met Vini Medley in LA and Vini came back to London and started the seminal Botchit & Scarper label in London after working at SOUR records , original home of Shy FX, MJ Cole, T Power. I signed with them soon after and learned on the fly as you did then. It was a big step for me being that I had come from a small country from the other side of the world to make music in London.
5 - With so much diversity in your productions, do you feel like you have a sound of your own?
I can't really hear it myself but people say I do . I just make whatever comes out at the time. Seems to work.
6 - How do you explain your music to your family members?
My Mum and Dad came to a gig once in Auckland ,New Zealand and they had a good time, or pretended to at least :). Generally they are very supportive and my Dad totally gets it as he was in bands and gigging for years as a yout in Fiji. My Aunt works in the archive library in Wellington, New Zealand so she makes sure all my tunes are bought and stored there - presumably as a warning to future would be young New Zealand DJ's and producers.
7 - Are you the type of musicians who know what kind of track you want to write before you sit down to make it, or do you create music more from a process of experimentation, trial and error?
A bit of both really. I may hear something that inspires me and then go into the studio and inevitably I end up taking it another direction and it sounds very little like what I thought I'd be making.
8 - What other producers are you inspired by?
I love the Sub Focus, Danejah, Trinity roots, Camo and Krooked, Calvertron, J Dilla, SKISM, Knightriderz, Koan Sound, Xilent, Propa Tingz, Terravita, the whole West Coast Post Dubstep sound coming out of the US, and much more.
9 - Which one record do you wish you had made?
Any Funkadelic record from 1970 till 1976
10 - Do you play any instruments?
A bit of guitar, drums, bass and keys... Not GREAT, but nothing that 50 takes and some selective editing won't fix :)
11 - What does your current production setup consist of?
A 17" MAcbook Pro, 23" screen, Logic Pro and Ableton Live, a UAD 2 solo card, Native Instruments Komplete package , Genelec monitors and a Sub, Dynaudio BM15A monitors ( too big for the room I'm in so I don't use them much), a Blue solld state mic, Vintech Dual 72 pre amp, Empirical Labs Distressor compressor, Fender Jaguar guitar, LIne 6 pod for the guitar, Mackie Bignob for speaker switching and monitoring vocalists. Pretty simple.
12 - How and where do you record?
Either in the room I'm in or on the road. When I'm touring I write a lot on the road and then finish it back in the studio.
13 - Do you DJ, play live, or both? How would you describe your sets?
I Dj, and play live with the side project Dub Kirtan All Stars - a 10 piece Asian/Bass music fusion band. Mostly I dj. My sets tend to go from pretty to heavy but end up mostly being peak time where I try to bring a diverse selection of the less generic ends of bass music together in a cohesive flow of bass mayhem.
14 - Where's your favorite place to DJ?
Too many to name, but Australia is always fun thru the festival season. The US West Coast summer festival season is awesome too from Lightning in a Bottle in LA up to the smaller gigs up the coast. South East Asia just because you can head out to a beautiful Island after the gig and chill.
15 - How do you see the Dubstep scene at the moment?
Altho it's been around for a while now it's still very vibrant and growing as those who are just getting on the train find out about it. It's obviously mainstreamed here in the US but still has a lot of creativity and fire as new faces appear on the scene. I like how a lot of producers are now moving onto a next sound and pushing the boundaries in other directions.
16 - When you're not making or playing/making music, what's your preferred pastime?
I read a lot, do Yoga and meditate, and I try and go to a warm place and lie in some sand now and again.
17 - Where do you think you will be musically in the next few years?
That is a very difficult question to answer. I could be making death metal country records or a double album of nursery rhymes and either would be good. I have no idea tho. I have been out of the mix studying for the past few years previous to 2011 so I'm really just finding out what it is that I do NOW :). Making music is an amazing process and much of it is unpredictable.
18 - Any plans for an artist album?
yep I'm on it now. I'm stoked to be back in the studio and getting fired up now with a couple of releases over the next few months on High Chai Recordings outta NYC and Muti Music outta San Fran.
19 - If you weren't musicians, what would you be doing with your life?
Probably a teacher of some sort. I really admire and respect those who help people to keep learning and growing, be it kids or adults. In our consumerist western world where we are surrounded by superficial bullshit and told that it is worthy of our life and attention , not much is. Teaching is a great way to cut thru the crap and pay on what our teachers have given us, in what ever way we can, or to give where we weren't given to.
20 - What is one thing most people don't know about you?
I used to have vast collection of airline sick bags that I kept from my tours around the world. When we moved from our last flat I still hadn't found another like minded soul to trade with so, with a heavy heart I threw them all out. Recently on my back from India I found one of theirs (unused) in the seat pocket in front of me and kept it as the first sick bag I ever got was one from Air India. In some strange way it helped soothe the loss of my collection.
21 - A last word…
Peace!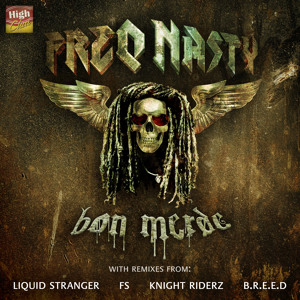 FREE DOWNLOAD!!!
Retrouvez FREQ NASTY sur Beatport!!!
///
Follow FREQ NASTY on Beatport!!!