FREQ NASTY feat. TIPPA IRIE & SOLAR LION - Not Givin' In (VIP Edit) *FREE DOWNLOAD*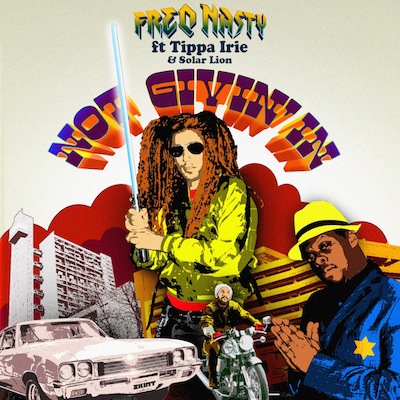 DOWNLOAD IT HERE !!! http://soundcloud.com/freqnasty/not-givin-in-VIP-edit
The full release is available tomorrow October 31st exclusively from Beatport.
BUY IT!!! http://www.beatport.com/release/not-givin-in/985873
///
SKINT 260
FN feat Tippa Irie and Solar Lion – 'Not Givin In'
Release date Oct 31 2012
It's been a minute since FreQ Nasty dropped the classic Breakbeat anthems 'Amped', 'Goose' and 'Mad Situation' on Skint Records in 2003, so we're very excited to announce his return to Skint with a raucous new single "Not Givin' In". Featuring the vocal talents of legendary Saxon Sound System MC Tippa Irie alongside Californian producer Solar Lion, "Not Givin' In" is a piece of genre-defying Bass driven mayhem that weds the Stateside genre du jour Moombahton with a skanking Dancehall vibe that veers off into a hyperspeed 220bpm Drum'n'Bass drop, all topped off with the classic flow of the inimitable Mr Irie.
With lyrics that demand awareness of the current injustices ailing our planet and inspire the strength to fight apathy and cynicism, "Not Givin' In" is a 2000-and-tween dance floor monster that happily celebrates the conscious Dub Sound System era as much as the ecstatic Electronic Dance Music zeitgeist.
Remixes include a sick trap interpretation by Mad Decent artist Flore, Metalheadz artist Rido with a storming Drum'n'Bass relick, Tenkai's intelligent face melting on a Dubstep tip with cheeky doubletime breaks trimmings, South Africa's Greg Reve on 120bpm rinseout duties, and House music up-and-comer Sonny Wharton rolling out some proper 4/4 wares. Variety and originality reign supreme. Get your hands on the parts to make your own version – starting 20th November, Beatport.com is hosting a remix competition for the single with the winner to be released on Skint Records in December.
FreQ will be touring Australia throughout November, starting with the Eclipse2012 Festival in Cairns - bringing his signature mix of all things dub-wise and bass heavy without boundaries, including Breakbeat, 808 trap music, post-dubstep, glitchhop and beyond. In select cities on his tour, FreQ will also be offering his 'Yoga of Bass'workshops - given with yoga teacher Claire Thompson - which focus on the relationship between the ecstatic dance floor experience and the meditational path of Yoga. Details at http://yogaofbass.com/