FREEFALL COLLECTIVE - ignition (supafrequency)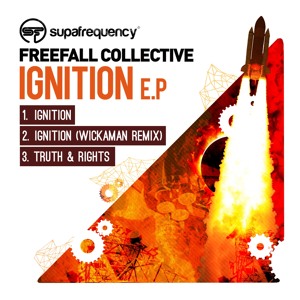 THE FREEFALL COLLECTIVE are a club and festival hardened outfit that have released some classic tracks over the last 5 years that have gained worldwide support from the likes of ATOMIC HOOLIGAN, PYRAMID, LADY WAKS, RENNIE PILGREM, PLUMP DJ'S, JINX, ANNIE NIGHTINGALE and XFM'S EDDIE TM.
Since 2005 they have been a regulars at UK festivals such as GLASTONBURY festival and GLADE as well as featuring on the line up at major clubs such as FABRIC London.
Title track 'IGNITION' is a 140bpm slammer of a tune with furious beats riding a rampaging bassline as sinister atmospherics tear out into driving old school leads and classic vocals. Dripping with pulsating energy, this is a heaving slice of pure rave magic.
Drum n bass heavyweight WICKAMAN rips up the remix into a massive dubstep/breaks hybrid. Epic filth hits spacial warp and settles in for a mind bending rollercoaster through frequency mayhem.
Sun kissed festival grooves flood through dub fuelled, reggae inspired 'TRUTH & RIGHTS'. Sublime roots vocals from MC TENJA burst out of jumping beats with edgy synths holding the line between sweet bliss and bass heavy pressure. Spinning ska into 2012, this is a guaranteed smile soaked
BEATPORT: http://www.beatport.com/#release/ignition-e-p/932028
JUNO: http://www.juno.co.uk/products/1997210-02.htm?highlight=FREEFALL%20COLLECTIVE
iTUNES: http://itunes.apple.com/gb/album/ignition-single/id533678546
http://www.freefallcollective.com/
https://www.facebook.com/pages/Freefall-Collective/8808151795