FREEFALL COLLECTIVE - ganjaman (supafrequency)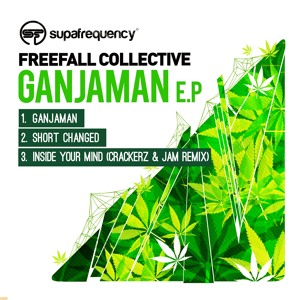 Hot on the heels of Ignition - Supafrequency is proud to present - Ganjaman- the new E.P. from Freefall Collective and the second taster from their forthcoming debut LP -Sounds Out Of Time.
Title track Ganjaman is an all-out peak time stormer with bad boy vocals ruffing up classic breaks as the sirens fly and searing rave leads lock down a sizzling jump up bassline. Rolling out the thunder....watch yer bass bins...
Kicking off with soulful warmth and an upfront, hip hop laced vocal, -Short Changed- ripples through sunshine delays and dreamlike bleeps before breaking out into all-embracing bassline menace. Torrid old school riffs whip in and out of sub bass majesty, rattling this tune straight into the festival favourites box.
Remixing album track Inside your Mind, breaks maestros Crackerz & Jam take the beats into original electro breaks land. With wailing synths anchoring soaring female vocals, the album teasers are in.
BUY ON BEATPORT : http://www.beatport.com/release/ganjaman-e-p/947156