FOAMO - tremors (fat! records)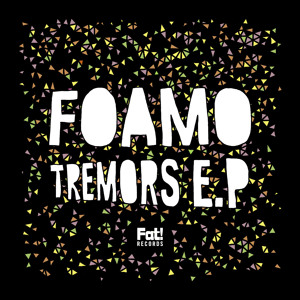 Last summer Foamo rolled out three singles in conjunction with his monthly residency at We Love… Space in Ibiza. The tracks received rave reviews; alongside the glee ridden quotes of the above they saw support from a who's who of modern dance music, Basement Jaxx, Skream, MJ Cole, Roska, Zinc, Boy 8-Bit and Drop The Lime were all among the high profile fans who supported the release.
Now 'Celestial', 'Ocean Drive' and 'Vibrations' are forming the basis for an 8 track E.P. to be released on Fat! Records, bolstered by five brand new tracks which have already ignited a flurry of support from a who's who of the djing world. When filling in for Annie Mac on BBC Radio One Skream dropped 'Sherlock', a dirty bass rumbler that features snippets of UK garage esque vocals underpinning a melancholic breakdown that explodes rapidly into a filth laden powerhouse.
Elsewhere the music on offer represents the multi-faceted approach Foamo brings to his productions and DJ sets, with hints of house, bass music, electro and techno all peppering the release. 'Tambor' looks to be the EP's second breakout production, a fidgeting house groove that cleverly juxtaposes main room appeal with a more laid back aesthetic. 'There for Me' is a brilliant main room slab of old school rave nonsense which blends scattershot drum patterns with rave stabs and sirens.
'Rumours' starts in classic tech house fashion before morphing into an acid house growler, the Steve Poindexter esque hi-hats pulsating perfectly with the oscillating bassline. And finally, 'Corridor' erupts with a flurry of jack hammer drums before being engulfed by a wobbling bassline, swaggering nonchalantly before disintegrating into a flurry of sawing synth stabs. It's hedonistic music for the more forward thinking patrons of dancefloor escapism, a sound that is big and clever.
Foamo, 24, is best known for releases such as 'Jookie', 'Centavo' and 'Generate Some Heat'. He has already established himself as one of the best producers to come out of the UK in recent years, known for the depth and quality of his engineering skills whilst gaining the support of DJs across the globe including Brodinski, Diplo, Armand Van Helden and many more.
http://pitchfork.com/reviews/tracks/13398-tambor/ 'Tambor' (free download)
http://www.discobelle.net/2012/03/27/foamo-there-for-me/ 'There For Me' (free download)
SOME DJ DATES:
16TH May – 715 San Francisco
18th May – Avalon Lo Angeles
24th June - We Love Chew the Fat! Space Ibiza
15th July - We Love Chew the Fat! Space Ibiza
5TH August - We Love Chew the Fat! Space Ibiza
10th August – Boom Town Fair Festival
7th September – Bestival Isle of White
9th September - We Love Chew the Fat! Space Ibiza