DRUNKEN MASTERS - Bang Bang (techno changed my life)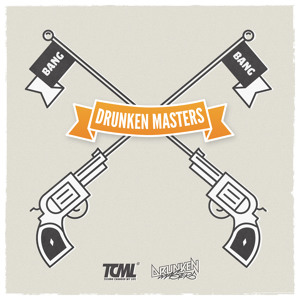 DRUNKEN MASTERS have managed to reduce every event to the rubble so far, no matter whether it was an after-party in Munich's P1 or the snowboarders' elite's rendezvous at the - Air & Style.
DRUNKEN MASTERS are also known for their remixes. This may either be bootlegs like Duck Sauce's tune-wedgie Barbara Streisand, Chromeo's Momma's Boy or officials for Germanys hiphop elite (i.e. CASPER, MARTERIA or K.I.Z).
For their debut BANG BANG they signed up with the renowned Berlin-based label TECHNO CHANGED MY LIFE. The EP comes along with a wide range of remixes:
No matter if you prefer DIRTY DISCO YOUTH's club banger, BEEF THEATREs party in a slaughterhouse, COP DICKIEs dubstep hitter, SHUKOs broken beat Hip Hop tune or KID SIMIUS' minimalistic edit - BANG BANG and B-Side TOYGIRL are two of the most interesting debut tracks this year!
BUY : http://www.beatport.com/label/techno-changed-my-life/19286
http://www.facebook.com/drunkenmasters
http://soundcloud.com/drunkenmasters
http://technochangedmylife.com/
///
FREE TRACKS!!!
http://soundcloud.com/drunkenmasters/drunken-masters-toygirl-kid-1
http://lifesupportmachine.co.uk/tracks/drunken-masters-toygirl-kid-simius-remix-exclusive/