CLUBROOT - scars / hellion (solace records)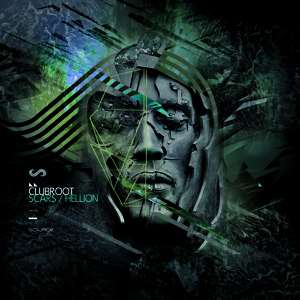 Solace Records est heureux d'annoncer sa première release avec "Clubroot", l'un des plus talentueux producteurs de dubstep. Clubroot impose son son hypnotique et émotionnel depuis bon nombres d'années déjà. Actuellement il met la touche finale à son 3e LP.
Ayant reçu un large soutien de DJ dans le milieu tel que James Zabiela, Sasha de Mary Anne Hobbs, Rob Da Bank et TRG, et des critiques élogieuses de Pitchfork, du magazine BigUp et plus - il est juste de dire que le son de Clubroot mérite qu'on lui prête attention à juste titre.
"Scars" (la face 'A' du maxi) commence avec un bruit de tonnerre et des nappes émotives qui se promènent tout au long du morceau. Réminiscence d'un début de DnB, "Scars" lâche des subs massifs et envoie un crochet vocal qui porte une ambiance profonde et provocante dans le reste de la piste.
"Hellion "Le revers de la médaille, c'est le monstre de la libération. Une ambiance menaçante sous une basse toute-puissante. Les breaks font de ce track le morceau parfait pour les DJ en fin de soirée.
///
Solace Records is pleased to announce its first release. Stepping up for the labels very first release we have none other than "Clubroot", one of dubsteps most successful and talented producers. Clubroot has had a grip firmly on the scene for a numbers of years with his hypnotic and emotional sound. Currently putting the finishing touches on his 3rd artist L.P, the L.P is set to be released on the American based 'Lo Dubs' imprint.
Having received a wide variety of DJ support from across the board - James Zabiela, Sasha to Mary Anne Hobbs, Rob Da Bank and TRG, and glowing reviews from Pitchfork, Bigup Magazine and more - it's fair to say Clubroot's sound has touched a nerve and is receiving the attention it rightly deserves.
'Scars' starts off the 'A' side with a thunderous beat and emotive pads that creep their way into the track. Reminiscent of an early DnB vibe, 'Scars' soon lets loose with a massive pounding sub and vocal hook that carries the deep and provocative vibe throughout the rest of the track.
The flip side "Hellion", is the monster of the release. Atmospherics and a menacing under glow build the track to an almighty drop. Razor sharp break beats coupled with huge reece stabs and mid range bass make this one perfect for the late night DJ.