AQUASKY - bring the ruckus album sampler (passenger)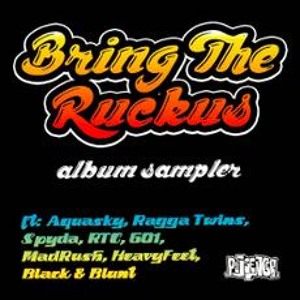 Back in 1993 RZA spoke the infamous words "Bring The Muthaf**kin Ruckus" on the debut WuTang album.
Now, in 2012, 15 years since the labels inception, Passenger echo those sentiments with an compilation album featuring some of the C.R.E.A.M of the bassline breaks fraternity.
The mission was to locate the pioneers of the bassline sound and to add a heavy dose of the new wave 140 Crew.
The album, due to drop this Autumn, will feature new tracks from AQUASKY, THE BREAKFASTAZ, THE AUTOBOTS, BACKDRAFT, RAGGA TWINS & SPYDA from the old school and fighting out of the new school corner will be 601, PYRAMID, BLACK & BLUNT, HEAVYFEET, MADRUSH, ROISIN BROPHY and RTC.
Here is the album sampler for the festival crew... 4 slices of shear ruckus.
ENJOY:DEPLOY:DESTROY
Buy release here : http://www.beatport.com/release/bring-the-ruckus-album-sampler/929434
Check out release here : http://soundcloud.com/aquaskyuk/sets/bring-the-ruckus-album/